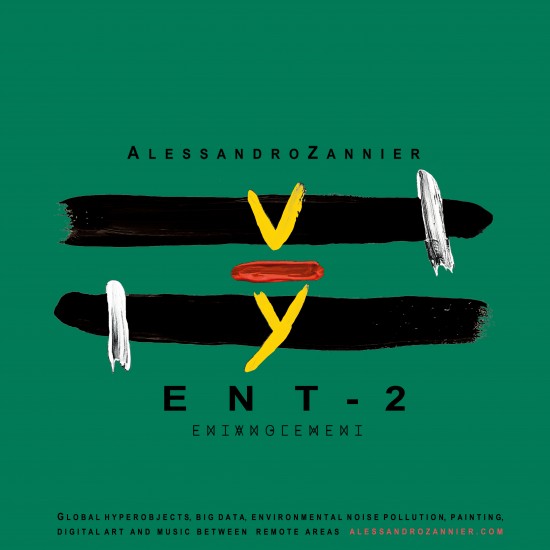 Alessandro Zannier
"ENT2 Venice/Yaoundé" + "ENT series" NFT
After participating in the Venice Architecture Biennale 2021 (Italian Pavilion "Resilient Communities") with the event "ENT1 – Venice/Auckland" in connection with New Zealand, in dual capacity as visual artist and musician-performer, Alessandro Zannier realizes the second twinning of the ENT series, this time with the African continent, comparing the environmental data of Venice with those of Cameroon and generating 3D digital animations resulting from decoding of big data cross-referenced, that dialogue via web through two installations-obelisk bright twins, one of which sent to the University of Yaoundè.
Based on the contents of the concept album "Entanglement" (signed under the musical alias "Ottodix") and on the representation of the human collective impacting on a large-scale temporal space, the work of Zannier, aims to reason on the now immediate correlation of individual local phenomena in the global network, with instantaneous cause-effect on the whole system (pandemics, economy, fake news, pollution, global warming, etc.).
Thanks to its hybrid nature between digital and material, science and art, reality and utopia, the ENT project was invited as an exception to participate in the NFT pavilion presenting the physical installation "ENT2 Venice/Yaoundé", which generates animations obtained from the sophisticated overlap of different environmental data concerning Cameroon, such as deforestation, the drying up of Lake Chad, air pollution and noise in its ports.
Zannier, to carry out the African twinning, accepted the commission's invitation by consenting to the creation of NFT, granting some short videos obtained from the "ENT" project of animations generated by the noise pollution of the seas, identified on various points of the world map – (" ENT Series "NFT), after having accurately calculated the corresponding CO2 rate produced by the creation of tokens for crypto art, offsetting it with a preventive planting of fruit trees more than twice as high, right in Cameroon.
A forest of 4300 lemon trees, chosen for their food, medical, cosmetic use and not for combustion or construction, which contribute to the gigantic operation "Great Green Wall" https://it.wikipedia.org/wiki/Grande_Muraglia_Verde  a reforestation project 8000 km long and 15 deep created to counter the advance of the desert to the south in the areas of sub-Saharan Africa. The environmental operation will be implemented further on the basis of any other resources found, and is among the first to attempt to use the visibility channels and potential resources of crypto art in a virtuous sense for an ethical impact to the benefit of the environment.